Articles with tag 'applying MBA learning'
'
TOP
MBA
applying MBA learning by date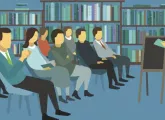 More people are taking online courses after their MBAs to stay relevant in a fast-moving jobs market. But how do you ensure that continuous education interweaves with your career goals? 
Wondering how to get the most out of your MBA? Read our top tips.
The case study method, pioneered by Harvard Business School, has long been prevalent in the MBA. But is it time for a new approach?