Articles with tag 'artificial intelligence'
'
TOP
MBA
artificial intelligence by date
Artificial intelligence is everywhere, and is more a part of business than ever before. Emlyon Business School realizes the importance of AI in management, and have launched an institute dedicated to just that.
Find out from an expert at MIT Sloan School of Management about how AI – artificial intelligence – is influencing the future of work, including the fact that the robots are not going to steal your job.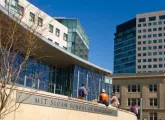 Discover how the MIT Sloan School of Management MBA program is teaching students how to apply AI and machine learning to business management. Get a peek at the future, too.
TOP
MBA
artificial intelligence by date