Articles with tag 'business'
'
Reports on the impact that farming has on the planet and climate change are revving up, making consumers more aware of their daily food choices. Alongside popular plant-based foods, new ways of growing crops are emerging every day and kick-starting a revolution in food production all over the world. Here's how they'll impact business and education in the new decade. 
What does a Conservative government mean for your business? Read on to find out more.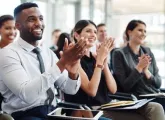 Not sure what the next step after your undergraduate degree should be? Find out why a specialized business master's could be for you.