Articles with tag 'Cambridge Judge'
'
TOP
MBA
Cambridge Judge by date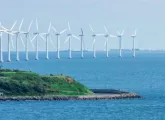 19 May 2017
Growing opportunities in renewables are the focus for two recent graduates of the Cambridge MBA, which offers an MBA concentration in energy. 
12 Oct 2015
Canada's Schulich School continues to top MBA rankings that cater to those looking for programs that are strong on matters of sustainable business.  
20 Feb 2015
With so many students looking to become startup founders right after MBA programs, this infographic considers some successful startups' origin stories.
There is no content in this category to be shown.