Articles with tag 'career planning'
'
TOP
MBA
career planning by date
Spoiler: it depends on a variety of factors. Let us help break it down for you.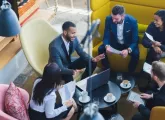 Want to make your big break into the world of digital business, but not sure where to start? The Digital MBA could be all that you need to help you succeed.
No one expects business schools to be mind readers, but they should have insight and intuition about what the future may hold and prepare their MBA students accordingly.