Articles with tag 'data analytics'
'
TOP
MBA
data analytics by date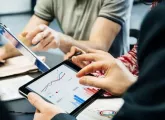 Degree programs and specializations in data analytics are booming. We spoke with the MBA Careers Advisors at Haskayne to find out why. 
Bentley University has launched a brand new Master of Science in Audit Analytics Program. The university speaks about what students can expect from the program, and possible future career paths for graduates. 
Business analytics is a vital area of expertise in the modern world, so it's important your MBA program covers this growing area. To learn more, we spoke to Queen's University Belfast about their MBA program.
TOP
MBA
data analytics by date
Course comes as demand for leaders who can crunch data to make better decisions skyrockets.