Articles with tag 'food'
'
Jen Bower has been awarded one of our five QS Community Scholarship for bringing the therapeutic art of baking to those who need it most.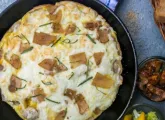 A new egg-based restaurant, Yolkshire, is about to take the world by storm. We speak to the founder about how his MBA will take it there.
There is no content in this category to be shown.