Articles with tag 'Harvard Business School'
'
TOP
MBA
Harvard Business School by date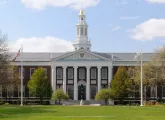 Want to secure a place on Harvard Business School's world renowned MBA program? Find out all about the student experience and application essentials here.
Students for Fair Admissions is suing Harvard University for systematically discriminating against Asian-Americans and thus violating U.S. civil rights law. Here's why all business schools and universities could benefit from a more transparent admissions process.
Discover why a number of top business schools dabble in the liberal arts to help their MBA students think in a different way.