Articles with tag 'IE Business School'
'
TOP
MBA
IE Business School by date
Are you unsure whether to study for your executive MBA at IE Business School or ESCP Europe Business School? Look no further. 
Discover how IE Business School continues to innovate by launching Europe's first ever Tech MBA.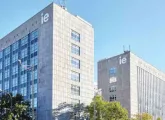 Find out what QS MBA Community Scholarship winner Jason Michael Madison has to say about the about the process, and how his award will help him at IE Business School.