Articles with tag 'International Women's Day'
'
TOP
MBA
International Women's Day by date
Ever wondered which highly successful women went to business school? Read on to find out! 
To celebrate International Women's Day, we've rounded up some of the most inspirational stories on TopMBA.com about women breaking barriers in the business world for your enjoyment!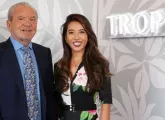 In 2019, being ethically conscious and environmentally charged is more important than ever in business. Susie Ma, CEO and founder of Trop Skincare shows us how.