Articles with tag 'Kellogg School'
'
TOP
MBA
Kellogg School by date
15 Jun 2017
A detailed comparison of the EMBA programs at Wharton and the Kellogg School - North America's top two, as per the QS Global EMBA Rankings 2017.
17 May 2017
2,000 miles away from its main campus, the Kellogg School aims to meet MBA students' interest in startups with program in the San Francisco Bay Area.
10 May 2017
Top programs offer plenty of opportunities for MBA students to achieve environmental or social impact in their future careers.
TOP
MBA
Kellogg School by date
28 Dec 2016
Tamas Szekeres reflects on his SKKU MBA in South Korea and how mandatory international exposure was pivotal to his success in marketing 10 years on.
16 Dec 2016
What are the employment outcomes for members of the MBA class of 2016 at Chicago Booth, Kellogg, Michigan Ross and the Kelley School?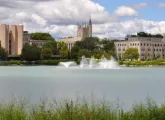 22 Dec 2014
Tech beat out finance in 2014 according to the latest Kellogg MBA Employment Statistics.