Articles with tag 'leadership'
'
TOP
MBA
leadership by date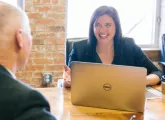 Do you want to learn leadership skills, but don't want to splash out your cash or time for an MBA? Here are some unique ways to learn leadership.
EMBA alumna, Aude Slama, tells us how the executive MBA has benefited her career and discusses the importance of schools' career coaching services. 
January 2020 - the beginning of a new year and a new decade. If you'd like to read more and improve your leadership skills, here are seven books that'll help you achieve both resolutions.