Articles with tag 'Mannheim Business School'
'
TOP
MBA
Mannheim Business School by date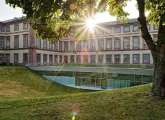 Which are the top business schools for a full-time MBA in Germany? See the top schools from this year's QS Global MBA Rankings. 
Looking to study an MBA in Germany? Mannheim Business School's Gaby Silver fields some questions about its MBA admissions process.
There is no content in this category to be shown.