Articles with tag 'MBA admissions'
'
TOP
MBA
MBA admissions by date
Faculty at Questrom School of Business discuss why you should choose the business school - and tackle any admissions questions you might have.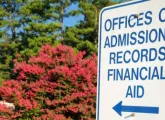 The US college admissions scandal has exposed the problems with how universities and business schools select students and led to calls for greater transparency.
To learn more about the finance and accounting masters programs at the Peter T. Paul College of Business and Economics, University of New Hampshire, we spoke to Rebecca Barbour, Director of the Graduate Programs Office at the business school.