Articles with tag 'MBA admissions'
'
TOP
MBA
MBA admissions by date
Worried about applying to business schools during the coronavirus pandemic? Here's everything you need to know about Wharton's admissions response.
Discover how the coronavirus pandemic is affecting applications to top business schools around the world and find out how you might be affected.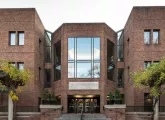 Wharton launched its first-ever student-led tour in the middle of the coronavirus pandemic, proving this kind of virtual experience could greatly benefit business schools in the future.