Articles with tag 'MBA admissions'
'
TOP
MBA
MBA admissions by date
Check out the basic facts about Wharton's MBA program to prepare yourself before you decide to apply for an MBA at Wharton.
If you're applying to business school, you've likely wondered before whether you ought to be use an admissions consultant. Read our guide on whether to hire an MBA admissions consultant.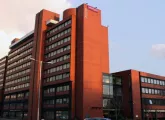 Alliance Manchester Business School has chosen to postpone its MBA start date to accommodate the new normal. Find out more here.