Articles with tag 'MBA careers'
'
TOP
MBA
MBA careers by date
No one expects business schools to be mind readers, but they should have insight and intuition about what the future may hold and prepare their MBA students accordingly.
Discover the versatility of MBA jobs in this rundown of the kinds of work graduates might take on after completing graduate business school.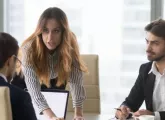 To learn more about how the MBA program at IESE can prepare you for a career in finance, we spoke to Eddy Zakes, Director of the Entrepreneurship and Innovation Center of IESE Business School.