Articles with tag 'MBA programs'
'
TOP
MBA
MBA programs by date
If business schools are going to continue to attract the most forward-thinking graduates, here are the programs they will need to offer.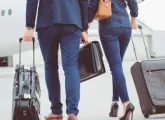 Wondering whether an MBA exchange program will give you any additional benefits? Here's a closer look at whether the time and money invested in an MBA exchange is worth it.
Confused between MBA and EMBA? Learn the difference between an MBA and an EMBA, from program details to ROI and determine which one is right for you.