Articles with tag 'tips & advice'
'
TOP
MBA
tips & advice by date
Studying for exams and writing assignments can be tough. Read on to discover our top 6 study tips to help you get through and succeed in your online MBA.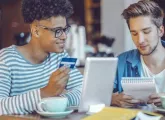 Considering studying a postgraduate degree abroad? Read our seven budgeting tips to make sure your study abroad experience doesn't leave a gaping hole in your pocket.
Wondering how to get the most out of your MBA? Read our top tips.
TOP
MBA
tips & advice by date