Articles with tag 'tips & advice'
'
TOP
MBA
tips & advice by date
Four MBA students at Warwick Business School tell us what to expect when it comes to studying an MBA and how to make sure you're prepared to hit the ground running.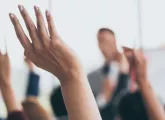 Before you take plunge, you're going to want to make sure it's the best choice for you. 
Studying for exams and writing assignments can be tough. Read on to discover our top 6 study tips to help you get through and succeed in your online MBA.