Articles with tag 'UT Austin McCombs'
'
TOP
MBA
UT Austin McCombs by date
Being happy not only benefits our personal lives, it actually benefits our work too. We find out why thanks to University of Texas at Austin's brand-new MOOC.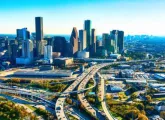 Are you thinking of studying for your MBA in Texas while continuing to work? Here are the best business schools in the Lone Star State to earn your MBA part-time.
There are changes in the industry destinations of this year's MBA graduates from the University of Texas at Austin McCombs School of Business.
There is no content in this category to be shown.