Articles with tag 'work-life balance'
'
TOP
MBA
work-life balance by date
Working from home can be a blessing and a curse, but are we effectively working from home during these unprecedented times? 
Developing and maintaining healthy habits isn't easy, but there's no better time than the beginning of a new decade to do it. Here's a few books that'll help you find what works for you.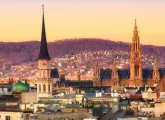 How much of a role should location play in picking your business school? And what challenges will you face moving abroad?