Blog Posts with tag '2013'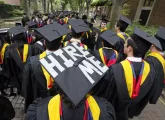 According to GMAC, MBA employment rates are growing, with 90% of this year's MBA graduates worldwide in employment.
The 2015 Harvard MBA class is set to be the most diverse yet, while graduate salary levels and return on investment look very favorable.
There is no content in this category to be shown.