Blog Posts with tag 'Entertainment industry'
TOP
MBA
Entertainment industry by date
HBS's Gautam Mukunda has won two episodes of US gameshow, Jeopardy!, where the selection process may be as tough as that of a leading business school.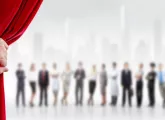 Adding creativity to the campus classroom experience is the best way to show its value over MOOC and online programs, says Warwick Business School.
Former FT chief executive and Harvard MBA, Rona Fairhead will be the first woman to lead the global broadcaster's governing body, the BBC Trust.
TOP
MBA
Entertainment industry by date
Cambridge Judge Business School has formed a new partnership that sees the school host the industry academy, Entertainment Master Class, this week.