Blog Posts with tag 'GRE'
GRE popularity on the rise as more candidates and business schools use the test for MBA admissions, but GMAT still number one.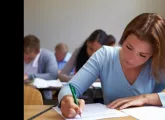 Number of GRE tests taken to pursue graduate studies in business up by 36% in 2013 according to its creators, ETS.
There is no content in this category to be shown.