Blog Posts with tag 'Tepper School of Business'
TOP
MBA
Tepper School of Business by date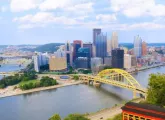 New female MBA program head at Carnegie Mellon's Tepper School, as we delve into AACSB research to track schools' progress on the faculty gender gap.
Tepper School of Business invest gift of $67 million into new 'Tepper Quadrangle' project which aims to make student learning more collaborative.
There is no content in this category to be shown.