Blog Posts with tag 'women in leadership'
TOP
MBA
women in leadership by date
Forethought required for positive World Cup legacy, queen bee syndrome proved to be a myth, and pen-theft news.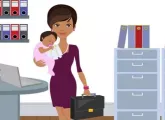 Working mothers have a positive influence on their daughters' employment potential and earning power says author of Harvard Business School study.
Gender equality comes to the fore on both sides of the Atlantic, new Google CFO to command astronomical salary, and soda news.