Deciding which business school you want to attend is hard.
To really get a feel for the place you need to see it and experience it, but right now you may find visiting your business school of choice for an open day isn't possible, and that's where virtual campus tours come in.
Some business schools have their own VR apps which allow you to explore everything from the classrooms to the cafeteria and quad – but there are also a few VR tour companies like YouVisit and Campus Tours that give you insight into your future school of choice without you needing to ever set foot on campus.
Here are some of the best virtual higher education tours of business schools.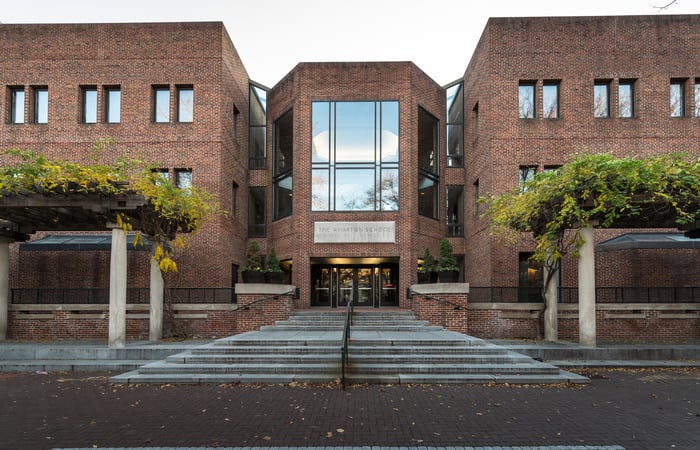 Wharton is ranked in first place in the QS World University Rankings: Global MBA Rankings 2020, and its virtual tour allows you to see what this top business school has to offer.
Located in Philadelphia, Wharton's lush green campus is situated in University City, a short distance from the city's bustling business district.
The virtual tour begins at the iconic Jon M. Hunstman Hall, but you can also check out the Koo Family Plaza, Steinberg Conference Center, Lippincott Library of the Wharton School, and so much more.
Wharton's MBA program offers intensive, flexible core in general business education, plus 19 majors and nearly 200 electives. The estimated total program budget for the two-year program is US$224,948.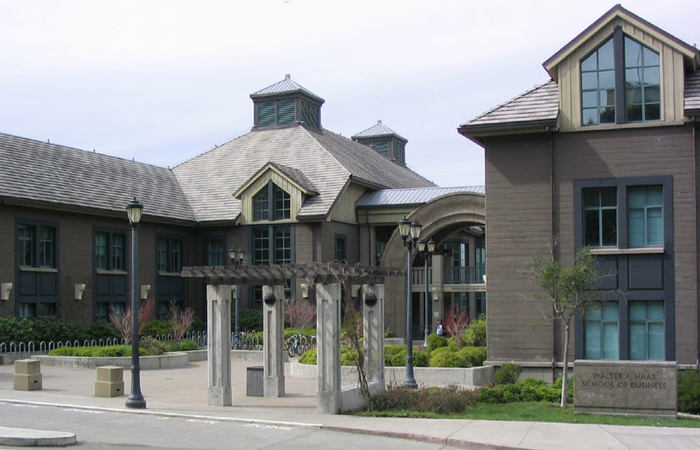 Berkeley Haas is the second-oldest business school in the US. Students can pursue one of six degree programs, including a full-time MBA (ranked ninth in the QS Global MBA Rankings 2020), and all of the programs are highly ranked in their respective fields.
The virtual tour begins outside at Cronk Gate, and you can check out everything from Chou Hall to The Campanile and the Berkeley Executive Education area.
Darden Business School's 360-degree tour will take you all around the b-school campus. If you follow the pre-decided route, you'll start at Saunders Hall and your final stop will be North Grounds Recreation Center.
But of course, you're more than welcome to go off-piste and pick and choose your route – getting the full on-campus experience by also visiting Café 67 or the Wilkinson Courtyard next.
Experiential learning opportunities aren't lost at Darden, with students able to get involved with the likes of the Global Consulting Project, Exchange Program, and the Consulting Darden Business Projects.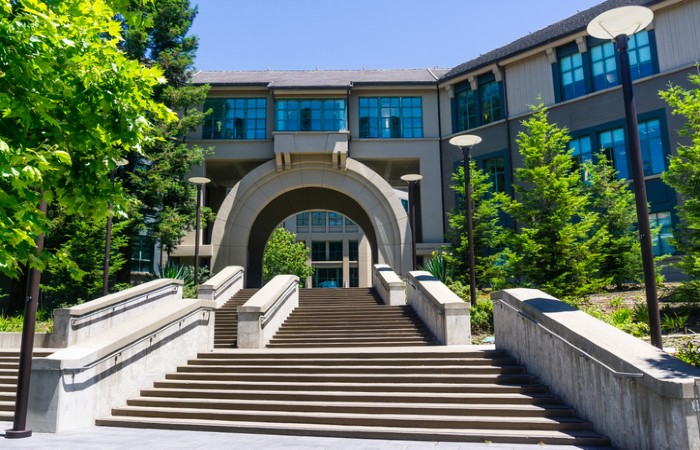 Located in Orange County, California, UCI Paul Merage School of Business is in a prime location for business, surrounded by global companies including Taco Bell and Blizzard.
There are three MBA programs available at the business school, as well as some noteworthy master's programs. Paul Merage takes a personalized approach to education for all programs, meaning you can tailor your education to suit you.
The virtual tour takes you all over campus where you can see the Case Study Room; Schwab Trading Lab; Kristen Monson Grand Terrace (utilized for networking and club events in the great outdoors), and so much more.
The program takes 18 to 21 months to complete, and tuition is US$46,104 for residents per year, or US$54,118 per year for non-residents.
You'll discover a 360-degree view of David Eccles School of Business if you take the school's virtual tour, starting at Emma Eccles Jones Plaza (a beautiful spot in the sunshine). From there, you can explore the rest of the campus at your leisure.
Visit the Jack and Jeanne Oakland Trading Room, the Student Life Center, or why not virtually take the 10-minute drive down to Downtown Salt Lake City & City Creek Mall to really get a feel for the campus and city you'll be residing in. 
There are four MBA options available at the business school: Full-time MBA, Professional MBA, MBA online, and the Executive MBA.
The future of virtual tours
Hundreds of higher education institutions now offer virtual tours, which is a tremendous help for students around the globe, allowing them to safely visit schools from a distance.
Some business schools may still need to create their own virtual tours, but we're sure more and more education facilities will take advantage of VR tours as a way to show off the best parts of their campus to prospective students.
Read more about Covid-19
Everything Students Need to Know About the Novel Coronavirus
Confused About Coronavirus? Imperial College Launches Free Covid-19 Course
Wharton Offers Course on Consequences of Coronavirus Crisis
Discovering where to study
Is Postgraduate Education Still Worth It During a Global Recession?
Cambridge University: Online Only Lectures Until Summer 2021
Imperial College Business School Holds Virtual MSc Information Session
What to Consider When Comparing Universities Online
How to Choose a Business School Without Leaving the House
Comparing Virtual Tours of Top Business Schools
Why Higher Education is Still Necessary in Times of Change
Why Technology Can Save University Enrolment in Trying Times
QS digital events
How to Prepare For a QS Digital Event
How to Impress MBA Recruiters at Home
How to Navigate Your University Search During Covid-19
Why Aspiring Grad Students Should Attend HE Events
Coronavirus Advice for In-Person QS Events
Admissions advice
University Admissions: Coronavirus Hub
Business School Admissions: Coronavirus Hub
How Will the New Clearing Process Affect Students?
'We're Working to Ensure Candidate Applications Aren't Disrupted': Instagram Live with Imperial College Business School
Universities Changing Tuition Fees in Response to Coronavirus
How Covid-19 Is Affecting Wharton MBA Applications
Online Resources to Use in Your MBA Application
UK Government to Cap University Admissions: Will You Be Affected?
How To Defer Your University Offer In the UK
How To Defer Your University Offer In the US
How to Defer Your University Offer in Canada
How To Defer Your University Offer In Australia
Wharton Holds First Virtual Campus Tour For Students Stuck at Home
Entrance tests & exams
Six Tips to Ace the At-Home GRE and GMAT
INSEAD Accepting Applications Without the GMAT Due to Coronavirus
Can't Take TOEFL? Duolingo Might Offer Alternative
How to Take the GRE and GMAT at Home
China's National University Entrance Exam Will Go Ahead in July
Studying online
80% of UK Students Struggling Financially Due to COVID-19
Business As Usual: ESCP Replaces In-Person Project With Online Version
Why Coronavirus Will Cause an Ed-Tech Boom
Should UK Students Get A Refund For The Academic Year?
Majority of International Students Happy to Study Online
Benefits of Online Degrees, According to Students
How to Successfully Work From Home
How to Organize Your Routine When Working From Home
How to Set Up Your Home Office When Studying Your MBA
How to Stay Focused When Studying Your MBA at Home
How to Stay Engaged While Studying Online
75 Percent of Students Expect Lower Tuition Fees For Studying Online
9 Top Universities Offering Free Online Courses
Why Hybrid Teaching Might Be the Future of Online Courses
UK Students Will Pay Full Tuition Fees If Classes Remain Online, Say Government
10 Online Courses to Boost Your Business Curriculum
Life in lockdown
Quiz: Which Quarantine Cliché Are You?
Meet the Charity Helping International Students Left Homeless By COVID-19
Re-opening Businesses in COVID-19: Pros and Cons
What It's Like Being in B-school During the Covid-19 Pandemic
Life Under Quarantine: How Coronavirus is Affecting University Students
Coronavirus: Life is Changing on Campus in the United States
25 Productive Things To Do While Social Distancing
Five Inventive Things B-School Students Can Do While Social Distancing
How to Keep Employee Morale High While Working From Home
How UK Students Can Help Out During the Coronavirus Crisis
9 Books All B-School Candidates Should Read While Social Distancing
How to Avoid Back Pain When Working From Home, According to a Chiropractor
Business School Professors Recommend Activities to Pass the Time in the Pandemic
Staying healthy
Five Ways to Look After Your Mental Health in Lockdown
How Can Students Stay Healthy At Home?
Should You Try to 'Improve Yourself' in Quarantine?
Fun and Unusual Ways Students are Staying Active in Quarantine
How You Can Stay Happy and Healthy While Studying at Home
Careers advice
The 'New Normal': Why Digital Skills Matter More Than Ever
The EdTech Sector Grows as Other Industries Take a Hit from the Coronavirus Crisis
Bounce Back Loans: Everything You Need to Know for Your Small Business
Staying Hopeful: MBA Grads on Job Hunting During a Recession
What Does Coronavirus Mean For The Hospitality Industry?
How to Adapt Your Small Business During a Pandemic
How to Get Hired Without Leaving the House
How 2020 Graduates Can Find Jobs Amid Coronavirus
Everything Students Need to Know About Virtual Internships
Staying Afloat: UK Small Business Owners on Adapting to a Pandemic
How My B-School Experience Is Helping Me Run a Hospital During Covid-19
Summer Internships Are Going Online
Safeguarding Talent During Coronavirus: Will Internships Go Digital?