All articles and blog posts
TOP MBA Articles & Blog posts (sorted by date)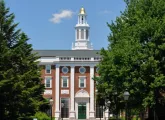 13 Jan 2016
Blog Post
Received and invite for an MBA interview at HBS? David Hamilton, Founder of HBS Accept, gives us three interview tips for HBS (or any other MBA program!).
David Hamilton is the founder of
HBS Accept
and a member of the HBS MBA class of '17. Check out his blog for valuable information about applying to MBA programs around the world. David has also helped students gain admissions to top business schools as a consultant.