All articles and blog posts
TOP MBA Articles & Blog posts (sorted by date)
01 Dec 2016
Blog Post
MBA graduates have difficult choices between large companies and startups, and small companies. Here are four benefits of joining a startup.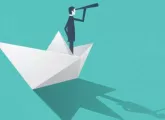 10 Nov 2016
Blog Post
Sure, working at a startup can be mortifying, but taking some post-MBA career risks can be hugely rewarding, says Harvard MBA Jaren Nichols.
Jaren Nichols is a Harvard MBA who supports MBA grads pursuing careers at smaller companies where they can put more of their skills to use and benefit both themselves and their companies. Jaren currently works at 
ZipBooks
, an accounting software startup that also provides paid bookkeeping services, but his previous experience includes Nest, Inside-Sales.com, Accenture and Google, where he launched a first generation Incentive Compensation Management product.