All articles and blog posts
TOP MBA Articles & Blog posts (sorted by date)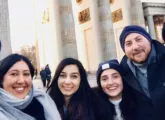 15 Feb 2018
Article
Natasha Lakhani, MBA student at Imperial College Business School in London, describes how her first semester went and why she can't wait to find out what the MBA has in store next.
After completing her Bachelor's degree in Management from The London School of Economics & Political Science, Natasha has spent the past seven years working in the Oil & Gas sector for Shell PLC in a variety of finance roles. She is a member of the National Academy for Gifted & Talented Youth and has been awarded a 
Forte Foundation Fellowship
to pursue  her MBA at Imperial College London, which she started in September 2017. Natasha is passionate about the Energy Challenge and hopes to accelerate her career in this sector post-MBA.