Articles with tag 'advice and tips'
'
TOP
MBA
advice and tips by date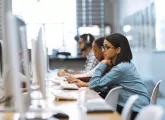 Technological expertise is invaluable in today's job market, find out what you should be doing to boost your knowledge and skills.
Wondering how to get the most out of your MBA? Read our top tips.
MBA Rankings can be very useful to applicants, especially in the early stages of the application process. Read this article to help you assess the findings to benefit you.