MBAGirlJourney
Whether you are planning for an MBA interview, a job interview or an internship interview, preparation is key. In doing some research on recruiting, I began to think more about my interview process and the best way I could compete with so many talented applicants. In hindsight, I probably could have prepared more for my MBA program interview...but recruiting is just around the corner and so I can start now for a leg up with that!
After scouring the internet, I came to the conclusion that MBA interview preparation boils down to four key things:
Research
Preparation
Practice
Poise
To have a great interview - you need to be good at all four of these things.
1. Research
In this day and age of the internet, you are guaranteed to have a leak. An MBA program's interview questions are recounted on sites like ClearAdmit.com, where applicants can post their interview recaps to help others. While I was applying to business schools, I definitely made use of this resource.
Even if you are applying to a new job or internship, many company's interview questions or interview styles are documented on the internet. It just takes some Googling and you have already done 10% more work than your competition.
Aside from knowing what kind of questions you are being asked, research on the actual institution or company is incredibly helpful. I think it is important to get a good understanding of where they stand with respect to their competition, whether they have been in the news lately as well as basics like location, history and other well known facts. Being well-researched shows how much you care about the program or job.
2. Interview Preparation
Recently, I was reading a blog that had 108 tips about interview preparation for new MBA students and I came across a gem. The author mentioned that he makes a story tracker that plots his most used interview stories against the most commonly asked recruitment interview questions.
This would have been incredibly helpful during the MBA interview process where the most common questions touch on themes like leadership, analysis, teamwork and overcoming adversity. It is also helpful to make sure you have enough stories to cover all potential questions; so you don't run out of stories!
3. Practice
After making sure you have all the information about the job or MBA program you need to succeed in an interview, you also need to make sure that you can deliver it effectively. This is where interview practice comes into play.
Leading up to my MBA interview, I 'interviewed' myself everywhere. On my drive to work, I would turn the radio off and ask myself common interview questions and answer them. If I stumbled on my answer, I would answer it again until I got it right. I have a one-hour commute, so this was a really great use of my time.
Another great form of interview practice is to interview yourself while looking in the mirror. Often we see ourselves differently in our minds-eye than how we actually appear to others. Practicing in a mirror helps us to see what others are seeing.
I recently heard of another way to practice your interview skills. Online services are now available featuring on-demand mock interviews that record your answers via your webcam. Some are pay-for-use and other services have a free demo.
The one that I have heard about is interviewstream.com.
Finally, you can practice with a friend or a professional, such as a consultant. Live feedback from an outside person is invaluable. However, it is important to weigh the quality of feedback vs. the price to make sure it makes sense for you.
4. Poise
Poise during an interview is what I struggle with the most. I tend to get pretty nervous and psych myself out a lot. This has a negative effect on all my other preparation.
Some things that have helped me regain my poise are remembering to breathe, doing some exercise beforehand, feeling comfortable and confident in my dress and getting to the interview 10-15 minutes earlier than the scheduled time.
Also, I have found that positive mental images help me to become less nervous. Things like imagining a positive outcome to the interview can really be a boost for your confidence level. Practicing this could lead to your being more confident on the outside and exhibiting more poise - which will help you nail your interview.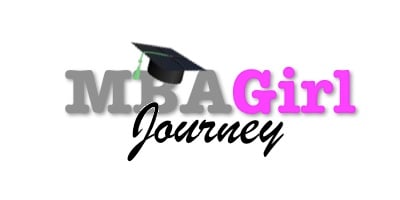 MBAGirlJourney is a young east coast professional who blogs about her mission to land a seat in a top-10 MBA program and to finance her higher education responsibly.  She was recently admitted to a top-tier program and now offers affordable resume and essay editing services to help other applicants.  To see more posts from MBAGirlJourney, visit www.MBAGirlJourney.com.