Blog Posts with tag 'HEC Paris'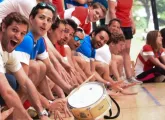 One of the MBA students behind this year's MBA Tournament (MBAT) at HEC Paris discusses the benefits of organizing a major event while at b-school.
What do you do when your new and innovative role slows down? Christine Weitbrecht tells us how her search for a new career path led her to HEC Paris.
HEC Paris' second video in its digestible research series urges individuals to be more directly involved in the socially responsible investment debate.