Blog Posts with tag 'MBA loans'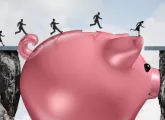 Even with a likely massive increase in salary, banks can resistant to giving out MBA loans to international students. Katie Schenk of Prodigy Finance offers some insight.
Wondering if you are eligible for study abroad loans and MBA loans from your country? Katie Schenck of Prodigy Finance breaks down loan programs like COLFUTURO.
Looking into MBA loans to fund your education? Ricardo Fernandez from Prodigy Finance discusses financial freedom and the importance of savings.
Kathryn Schenk of Prodigy Finance, gives us the lowdown on MBA loans and MBA financing.