Blog Posts with tag 'Music industry'
TOP
MBA
Music industry by date
Broadcast Music, Inc. (BMI) CEO, Michael O'Neill, puts his business ascent down to gaining the confidence to embrace new challenges from a Rutgers MBA.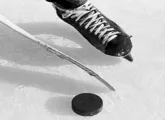 Hockey EMBA on offer from Canada, Harvard MBA's company to sell Wu-Tang Clan's secret album, the fallout from China's anti-corruption campaign, and more!
Oxford MBA students helped with data analysis and strategy in eyebrow-raising album release from Radiohead's Thom Yorke.
There is no content in this category to be shown.