Women succeeding in business isn't a new phenomenon, and there's a wealth of female entrepreneurs out there working hard and waiting for their time to shine. But, did you know only two percent of all venture capital goes to female entrepreneurs? Well, new investment fund WeAreJane is hoping to change that.
Conny Vandendriessche set up the investment fund in June 2018 alongside partners Muriel Uytterhaegen and Eline Talboom. WeAreJane supports women wanting to grow their business as well as those wanting to invest.
TopMBA.com spoke with Vandendriessche about the importance of female entrepreneurs, and why investment funds of this kind are imperative, even in the 21st century. 
The lowdown on WeAreJane
With a sole focus on female entrepreneur ventures, Vandendriessche and her colleagues are using their platform at WeAreJane to invest in companies founded or led by women, as female founders are typically underfunded by investors.
The fund will ensure female entrepreneurs receive the vital funding they need, while also supporting and coaching the companies they invest in.
WeAreJane's unique selling point (USP) is that 50 percent of their funds are invested by female entrepreneurs. The investment fund then facilitates that community to help the eight or 10 chosen companies to grow faster, providing them with a role model they can turn to for additional support and mentoring.
Vandendriessche says, "We didn't only ask for money from the female entrepreneurs, we also asked for their time to accelerate their business. So, that's really a strong USP for us. The power of role models is very important, and creating buzz around the companies we invest in." 
How it all started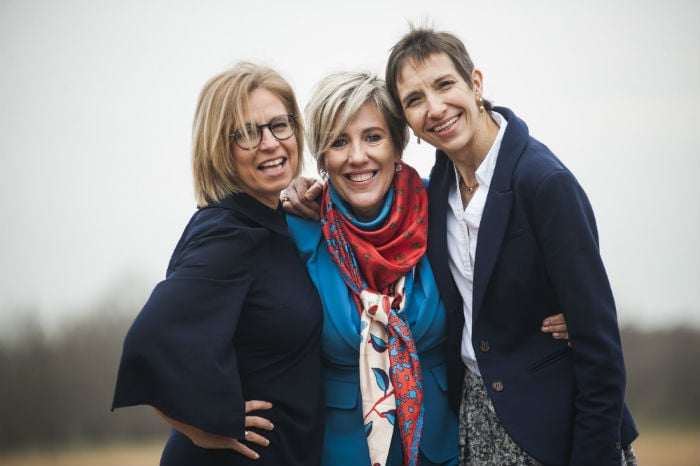 WeAreJane's inception came about when Muriel Uytterhaegen and Eline Talboom – both from the private investment sector – approached Vandendreissche about the inconsistencies in the investment fund market.
Uytterhaegen and Talboom said something had to be done because of the mismatch in the investment fund world. 
As a Vlerick Business School 'old girl,' Vandendreissche visits the school often and knows Marion Debruyne, Dean of Vlerick Business School, well.
Vandendreissche said to Debruyne, "Let's have a brainstorm session with women and men and look if Belgium is ready to have a female fund."
And it seems the team felt Belgium was indeed ready, as WeAreJane started up with a fund of 50 million euros.
Vandendreissche adds, "What's special is we're investing in grow-ups, not start-up companies. We made a list of 100 grow-up companies who have female CEOs and lots of female shareholders, lots of diversity, and we've already visited about 20 companies.
"We are sector agnostic, but it's all about how diverse they are, and having a female CEO and shareholders is important."
"As the first fund in Belgium, there's already a lot of buzz about it but it's a very small because we can only invest €50 million in eight or 10 companies. But I hope we make a lot of buzz and show that funding in female companies is a good thing."
Vlerick girl
In 1996, Vandendriessche undertook Vlerick Business School's KMO Excellence program which focuses on Executive Education, helping students who want to start-up businesses by training them in areas such as entrepreneurship growth and strategy, people management and financial management.
Vandendriessche decided she needed to learn more about business following the founding of her business Accent. She says, "I was so lucky. The staffing business Accent was 120th in Belgium when we started, and now we're second in Belgium.
"House of HR is a holding company which now has 15 staffing businesses; we place more than 40,000 people at work a day in over 10 countries and we have a turnover of 1.5 billion."
But Vandendriessche knows the importance of lifelong learning, and says she returns to Vlerick every year to take more classes. She says, "For me, it's very important I stay flexible. I'm still learning today, and I'm still meeting fantastic people in business.
"If you grow as fast as we did with the House of HR and Accent staffing, you change every day.
"We started with one office, then 10 years later we had 150 offices and now we have about 500 offices. In 20 years, you change roles so much, so you need to keep up with knowledge and flexibility and therefore you have to study.
"I invest in a course every year. It's very important for me, not only the knowledge but also contact with other entrepreneurs and it's very entrepreneurial – you really feel at home."
Vandendriessche has achieved so much in her career as a female entrepreneur, and this hasn't gone unnoticed. She says, "I'm very blessed that I'm a female founder of a staffing business. In 2014 I stopped being CEO as I didn't want to be operationally involved anymore and wanted to make strategic decisions.
"I was 50 years old then and said it's a good age to end my operational role and get some oxygen back and start new things."
The importance of female growth 
Vandendriessche expresses dismay at the fact females are so underfunded in the private equity sector. She says, "I read an article that in the US last year there were 135 new funds founded and only four by women.
"More than 55 percent of people who get a top diploma at university in Belgium are female. Every day, more and more female CEOs and shareholders start so it will be a huge opportunity in the future.
"If you look at articles, more than 94 percent of people in the private equity sector and investment managers are male and only two percent of funds are invested in female companies. There's a mismatch and total equality will currently take 170 years – that's too long."
Entrepreneurial spirit
Vandendreissche notes the entrepreneurial spirit at Vlerick, a factor that had a part to play in her growth as an investor and entrepreneur – leading her to the creation of WeAreJane. 
She says, "Vlerick guided me. I still go to Vlerick four or five times a year, so it's more like guidance through my career as an entrepreneur.
"It was really important for me to have a base. Not only for knowledge, but to be in the company of other entrepreneurs and to form a network. It's a really huge thing for me."
Her mission
Vandendreissche admits she wants to give back to society, but does she think the fund will thrive? She says, "I really want to be successful and I hope we will be. And I'm not alone, working with two other private investment girls.
"We need to accelerate. I hope more funds will come and say, 'OK that's a huge market, we have to look at female founders, female companies, and female shareholders and diversity'.
"I'm on a mission, and if women are on a mission – watch out."