Sedef Ozcelik is an MBA candidate at Nyenrode Business University in the Netherlands. She has a background in engineering, with a bachelor's degree in food engineering and a master's degree in chemical engineering, as well as five years of work experience in retail as well as the oil and gas industry. She is also a sporting superstar, regularly competing in triathlons and Ironman races around the world.
Sedef talked to us about her sporting triumphs and how she balances her MBA study with her gruelling training schedule.
Sport has always been an important part of my life and I have been a semi-professional athlete since I was seven years old. For the last seven years, my focus has been on triathlons, which have become my passion. I competed in the Turkish National Triathlon Team and completed several Ironman and Half-Ironman races throughout my pre-MBA business career.
In October 2017, a short while after starting the MBA program at Nyenrode Business University, I won my age group in Ironman Barcelona, completing the course in 10 hours and 24 minutes, and qualified for the Ironman World Championships in Hawaii, to take place in October 2018. The Ironman race is a long-distance triathlon consisting of 3.8 km swimming, 180 km cycling and 42 km running in one day, without any pauses. It is a gruelling race and demands a whole year of disciplined training.
It has been a challenge to balance a very busy MBA schedule with all the training necessary to give my peak performance in these races, so it is important to plan everything in advance. I work with one of the best Dutch triathlon coaches and we plan my training schedule together every week. Yet incorporating training into a routine of studying every day, completing assignments, giving presentations, visiting companies and undertaking company projects can still be tricky. Despite being a very engaging and rewarding way of life, it can be hard to manage and schedule, although I think this is a skill I will be able to utilise in my future career. 
With a background in engineering and oil and gas, I decided to enhance my career prospects by undertaking an MBA at Nyenrode Business University. By living in the Breukelen Campus, which is located on a large estate just outside of Amsterdam, I can start my training just outside my door as well as being exposed to a fantastic course and networking opportunities. In fact, I have received many congratulations from Nyenrode alumni who also compete in the Ironman competitions!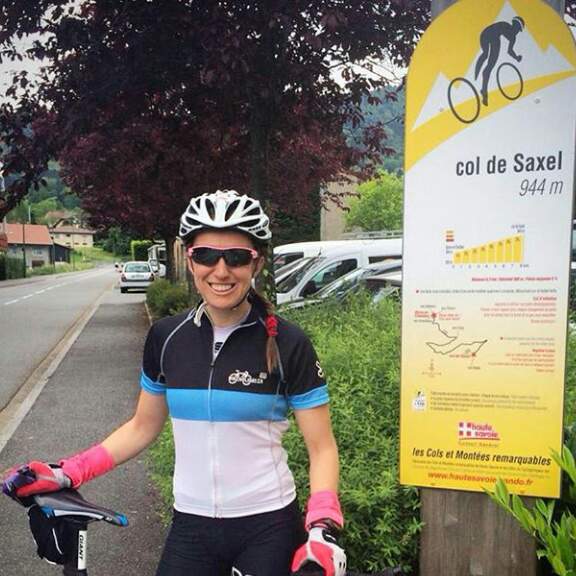 Thankfully, Nyenrode has been very supportive of my endeavour. The school has arranged a room for me in the teaching building to store my bike, take a shower and change my clothes before starting class, which is a great help. Depending on the weather, I ride my race bike to the Amsterdam Campus which allows 70km of bike training in a school day. Some days I use my lunch break to do my running training in Vondelpark, which is just 1km away from our Amsterdam campus. I find that this freshens my mind and helps me to focus on the following classes much better and be more creative for the rest of the day.
Whenever I have difficulties in class, I remember how my training has slowly paid off through the years and made me much stronger. This reminds me that all the intense study, the classes and the engaging program will make me a leader of the future. Although my training schedule can be isolating at times, I am grateful for the opportunity to learn from such a diverse mix of people in my classes; we have students from 18 different nationalities on our program. I feel very happy to be supported by the school management and all my friends in the program. This gives me an extra boost to chase my dreams, both in sports and in my future business career. 
Every day I see that I made the right choice by coming to Nyenrode. Being here is a great chance for me to succeed in more than one area of life. I can continue my training and develop myself, connect with global companies and learn from those around me. I am looking forward to what the future has in store for my career and hope to inspire those around me to challenge themselves in all areas of life.