The Wharton School has recently announced a new MBA fellowship, to be awarded to an incoming first-year MBA student who is both a member of and demonstrates leadership in support of the LGBTQIA+ community.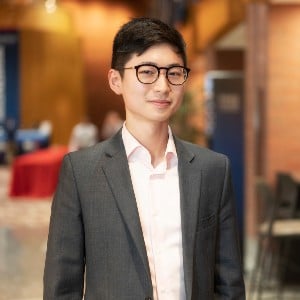 The Prism Fellowship will be awarded to Colan Wang (pictured), Wharton MBA Class of 2022, in its inaugural year. Colan currently works as a business consultant at TD Wealth where he leads a gender inclusion project that benefits the bank's clients with diverse gender identities and expressions ensuring their preferred name and pronoun appears across written, digital and in-person bank communications. 
Wang said: "I am honored to be named the first Prism Fellow at Wharton and excited to join the supportive culture that I experienced first-hand during Wharton's LGBT Visit Day.
"This community is filled with LGBTQIA+ students and allies who are there for each other, and I look forward to making a positive impact and building valuable connections that will last throughout my career."
Established in 2019 by Jeffrey Schoenfeld, WG'84, a partner at Brown Brothers Harriman, the Prism Fellowship will cover the full cost of Wharton's two-year, full-time MBA program. Schoenfeld said: "As one of very few 'out' MBA students entering Wharton in 1982, I truly marvel today at how far LGBTQ recognition and integration have become embraced by the broader business community.
"I am also mighty proud that Wharton has emerged as a leader in building the most diverse class among leading US business schools and feel privileged to support LGBTQ student leaders through their MBA journey."
And the excitement of the fellowship is felt throughout the school, as Wharton MBA Admissions Director Blair Mannix said: "The entire group of Wharton faculty and staff that worked with Jeff Schoenfeld to build this program has been so excited to release it to the broader Wharton community. It has been nice to see the excitement from the Wharton family on something so important."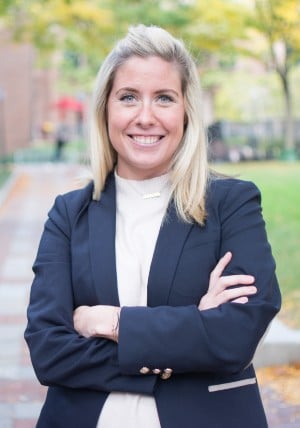 Prism Fellows are selected by the Wharton Fellowship Committee based on their leadership qualities, community impact and personal essays submitted with their MBA program application. But what made Wang stand out?
Mannix (pictured) said: "We were so excited to offer the inaugural Prism Fellowship to Colan, whose application to Wharton was collectively impressive. It was his long-time commitment to the LGBTQ community that made his application stand out.
"Colan has spent considerable time in his life paying it forward by volunteering for a variety of LGBTQ organizations that not only have impacted him personally but also those for whom he works tirelessly.
"He also intends to use the Wharton MBA for entrepreneurship to provide services to the LGBTQ community, so his projected path coupled with his dedication and advocacy work made him a natural fit for the fellowship and was, frankly, an easy decision for us."
Wharton recognizes the power of unifying different perspectives and experiences to foster an inclusive MBA community that will make a positive global impact. Mannix added: "Colan's strong leadership, collaboration and analytical skills exemplify what the fellowship represents, and we are thrilled to welcome him into our vibrant, supportive and dynamic community this fall."
The Prism Fellowship follows Wharton's tradition of supporting student diversity programs, including numerous student cultural and affinity clubs, a nearly 50 percent female MBA student representation and special peer learning activities including the Return on Equality Coalition.
Looking forward, Wharton has high hopes for what the fellowship can achieve, Mannix said: "Wharton will always strive to attract the most diverse student population to the MBA program that we can. Adding additional fellowships to our offerings for students continues to be an important part of that process. We are thrilled with the success of this fellowship and hope to continue its precedent for success."