Blog Posts with tag 'Columbia Business School'
TOP
MBA
Columbia Business School by date
Kellogg School of Management study on work place morality heads our latest synopsis of research news from the world of business education.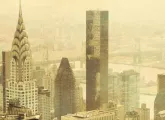 Columbia Business School receives US$5M from Morgan Stanley towards construction costs for the school's new home at the Manhattanville campus.
Developing CERN's scientific discoveries; INSEAD on why overseas travel builds creativity; and Chicago Booth asks if we trust mascots more than people.