Blog Posts with tag 'Marketing'
Developing CERN's scientific discoveries; INSEAD on why overseas travel builds creativity; and Chicago Booth asks if we trust mascots more than people.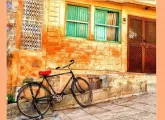 From judging India's potential cycling market to learning about the country's culture of doing business, it is all part of the Cambridge Judge EMBA program.
Three faculty members at Harvard Business School covered a range of economic topics surrounding Super Bowl XLIX for its online education platform, HBX.