Blog Posts with tag 'Tongji'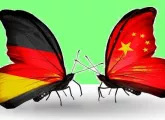 Mannheim Business School president reflects on the Sino-German EMBA program it offers together with Tongji University as third cohort graduates. 
MIT and Tongji University join with leading universities and business schools to support the Ellen MacArthur Foundation's sustainable business model.
There is no content in this category to be shown.