Blog Posts with tag 'Tsinghua SEM'
TOP
MBA
Tsinghua SEM by date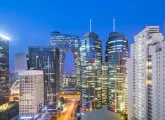 Influential advisory board at Tsinghua SEM announces Facebook's Mark Zuckerberg among the latest additions ahead of its annual meeting.
Chinese president is first head of state to meet with the increasingly influential advisory board of Tsinghua School of Economics and Management.
There is no content in this category to be shown.