Articles with tag 'entrepreneurship'
'
TOP
MBA
entrepreneurship by date
Find out why entrepreneurship and innovation are such a hot topic in the MBA curriculum.
What options and avenues do you have to explore entrepreneurship during your MBA? INSEAD reveal details about how their top MBA program is perfect for entrepreneurs.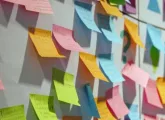 Andrea and Krishna experienced the challenges of setting up a company first-hand, but were they able to be one of the success stories?