Articles with tag 'finance'
'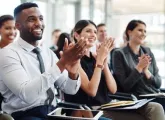 Not sure what the next step after your undergraduate degree should be? Find out why a specialized business master's could be for you. 
Do you think a career in real estate is right for you after your MBA? Find out what is making the property sector so popular today. 
Before you make a name for yourself in the finance world, you need to get your foot in the door. Find out our top tips to land a job in the finance industry.