Articles with tag 'finance'
'
Do you think a career in real estate is right for you after your MBA? Find out what is making the property sector so popular today. 
Before you make a name for yourself in the finance world, you need to get your foot in the door. Find out our top tips to land a job in the finance industry.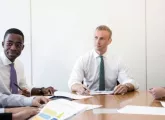 Barclays aims to help people make informed career choices by creating an awareness of opportunities in banking. Could Barclays be where you land your MBA job post-graduation?