Articles with tag 'technology'
'
TOP
MBA
technology by date
Find out how two Tuck Business School students' passion for politics sparked their start-up business idea.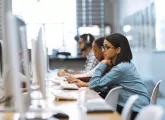 Technological expertise is invaluable in today's job market, find out what you should be doing to boost your knowledge and skills.
The technology industry over recent years has become more and more attractive to MBAs. Find out why and how business schools will have to adapt to growing demand.