Articles with tag 'technology'
'
TOP
MBA
technology by date
Discover how IE Business School continues to innovate by launching Europe's first ever Tech MBA. 
Big tech is unaviodable today, it's so ingrained in our lives. With that being said, MBA graduates may want to find out where the tech industry is going.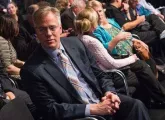 Find out what a typical day in the life of an MBA graduate who specialized in technology is like.