Blog Posts with tag 'Canada'
Switching careers from touring musician to consultant, Allison Lickley couldn't have guessed what her career path would look like before an MBA from Desautels. 
C$7.5m partnership with Ocean Spray Cranberries chairman, Peter Dhillon, to fund business ethics center at UBC's Sauder School of Business.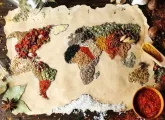 The debate over questions of global trade in the US and Canada and a mobile app preaching peace in the Middle East in this week's roundup.