Blog Posts with tag 'emerging markets'
TOP
MBA
emerging markets by date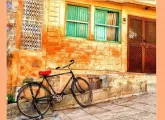 From judging India's potential cycling market to learning about the country's culture of doing business, it is all part of the Cambridge Judge EMBA program.
Annual Latin America conference at UCLA Anderson considers the growth of foreign investment in the region and outlines challenges for women in business. 
Journeys coming to an end, trade offs and the centrality of...wine tasting (!?) to the MBA curriculum.