Blog Posts with tag 'Sport'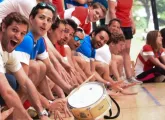 One of the MBA students behind this year's MBA Tournament (MBAT) at HEC Paris discusses the benefits of organizing a major event while at b-school.
Life after professional sport and the MBA. A former Olympic skier outlines how Imperial College Business School helped her find a new career path.
Forethought required for positive World Cup legacy, queen bee syndrome proved to be a myth, and pen-theft news.