Blog Posts with tag 'Stanford'
Stanford's MBA essay question 'What matters most to you, and why?' can be challenging, but utilizing these tips will help your essay stand out. 
In the round-up: Harvard Business School reaching out to Japan, WeChat at center of CEIBS competition, the 'smart business school' concept and more!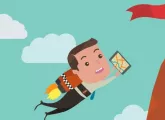 Stanford GSB's certificated innovation program, Stanford Ignite, adds another city to its list of locations with the UK capital.