Susan Gatuguta-Gitau
Rapid expansion in the economies of BRICS (Brazil, Russia, India, China and South Africa) has opened up a range of professional opportunities with a rich talent pool.  A record numbers of women are graduating from business schools around the globe, but there are still very few women represented at the top corporate levels. The recently concluded BRICS business Council meeting is just an example of this rampant phenomenon, as the chairpersons from all member states were male.
"Led by China, there is a sizable increase in the number of women pursuing MBAs in emerging markets," states Elissa Sangster. The QS TopMBA.com Applicant Survey draws upon the opinions of over 3,400 female MBA applicants from the BRICS nations, providing deeper insight into their aspirations and future career plans. It also highlights interesting trends. The following chart for example depicts the gender balance among the BRICS applicants.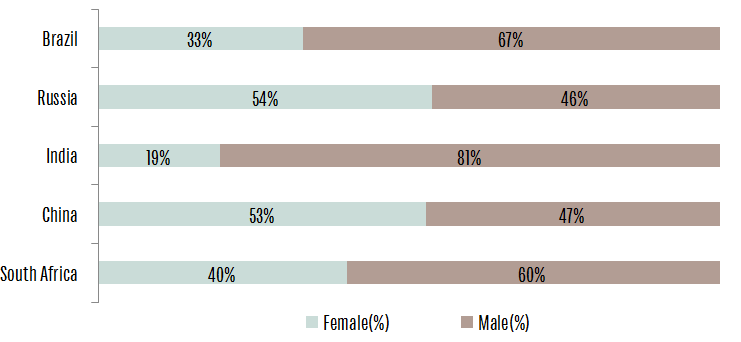 Russia and China are the showing the best representation of women. In both countries  women account for over 50 percent of the potential MBA applicants. On the other hand, India performs well below the group average. This could be attributed to societal pressure on women to focus on their families. Professor Vasanthi Srinivasan points out the gender balance and diversity issues in Indian businesses, "Entrenched gender roles on women being the dominant nurturer, glass ceiling at workplace, inability to network effectively, absence of strong mentors."

Brazil's proportion of women seems relatively low and slightly dripped in 2013; however it is only three percent below the UK. Brazilian women are gaining ground in the corporate world as the fast-paced economy in Brazil has led multinationals into competitive talent acquisition. Additionally, "In spite of the lingering influence of patriarchal traditions, Brazilian society is more supportive of female careers than other BRIC nations: 92 percent of women and 86 percent of men find it sociallyacceptable for women with small children to pursue a career" according to the Centre for Work-Life Policy research (The Battle for Female Talent in Brazil by Sylvia Ann Hewlett & Ripa Rashid with Anne Erni, Catherine Fredman, Laura Sherbin and Melinda Wolfe, Center for Work-life Policy).
So what are the primary motivations for pursing an MBA among women from the BRICS? Well the results show some differences among the different economies. However, the dominant objectives identified are improving career prospects, learning new skills, taking up a leadership or general management position and building a professional network.

Let us delve deeper into each of these objectives. Indian and South African women are the top MBA aspirants looking to pursue an MBA primarily for education. 42 percent of Chinese women aim to boost their salaries, 12 percent above the group average. Brazilian women dominate the group with the highest proportion of applicants looking to build a professional network, and Chinese women come second. Brazil also produces the largest proportion of women planning a career change and seek to improve their career prospects. Russian women are drawn towards learning new skills, eight percent higher than the group average whilst South African women have the highest levels of potential MBA candidates looking towards starting their own businesses or taking up a leadership position.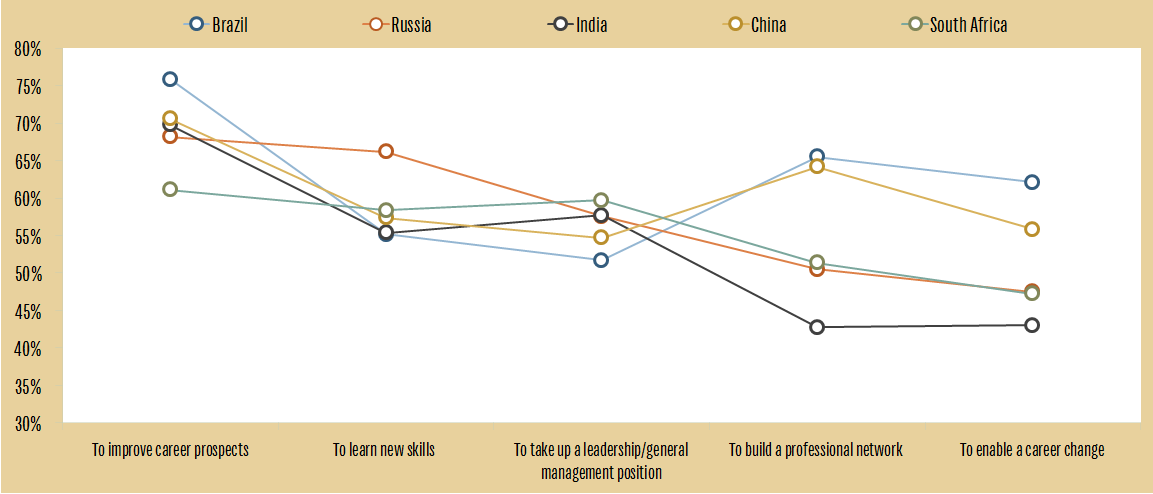 About Susan Gatuguta-Gitau
Susan is originally from Nairobi, Kenya where she obtained a BSc in Information Systems and Technology from the United States International University – Africa. Having successfully completed her internship at Barclays Bank, Susan went on to work as a Project Manager at a leading consulting firm. During the tenure of her employment, she led several major projects including the official launch of a major Chinese telecommunications giant and setting up the largest Business Process Outsourcing centre in East Africa. Susan also worked as a volunteer at a home for HIV positive babies.
She moved to the UK in the autumn 2005 to pursue an MA in Corporate Strategy and Governance from Nottingham University Business School. Prior to joining QS, Susan worked as an account manager at a leading pharmaceutical company in Islington, London. Her background led her to join, as an analyst, the QS Intelligence Unit in early 2009.