As we move towards our new normal, with lockdown measures easing across the globe, it seems as though the future could be a blended one for many institutions – but one business school thinks face-to-face is the only way to deliver its MBA program.
Alliance Manchester Business School has pushed back the start date of its full-time MBA program to December to ensure students get the full MBA experience.
TopMBA spoke to Xavier Duran, Director of MBA Programs at Alliance Manchester Business School to find out more.
Crunch time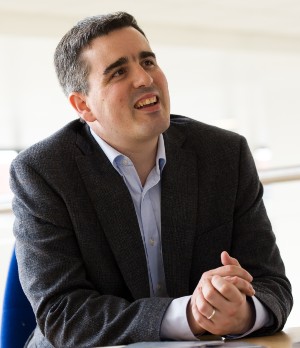 AMBS's full-time MBA program usually kicks off September 1 for inductions, with credit-bearing delivery beginning in early October. This year, inductions will be held December 1 and credit-bearing in January.
Xavier (pictured) says a decision to undertake an MBA isn't taken lightly. He said: "An MBA is a life-changing and transformational opportunity that many take years to prepare for. Full-time MBA participants usually give up their jobs, often moving countries with their family, and likely taking a job in the UK afterward.
"Our applicants wanted reassurance that we minimized the likelihood we may need to deliver much of the program virtually. It's only recently we've begun easing lockdown, and there is still a possibility of further lockdowns or restrictions."
AMBS believes pushing back the MBA start date will buy the business school time to ensure students undertake the MBA in 'normal' circumstances, while also rolling out effective social distancing measures (tested for other programs at the university).
Xavier said: "As we've seen with COVID-19, a lot can change within a few weeks, let alone months, so we are hopeful that our MBA program will be delivered fully or mostly face-to-face.
"Feedback from incoming students and applicants has been very positive, with many stating they would like to experience a face-to-face MBA program as much as possible.
"Our applicants have welcomed the steps we've taken with the date push back, in order to provide the best possible MBA experience."
Why face-to-face is better
Xavier agrees remote virtual delivery can be utilized for certain elements of an MBA, something AMBS facilitated during the pandemic for current students.
The experiential approach and extracurricular elements associated with an MBA are two of the reasons why Xavier thinks the value of face-to-face learning can't be matched elsewhere.
On the full-time MBA at AMBS, 80-100 students will meet classmates from around the world from 30 nationalities. Xavier said: "Our MBA classes always have a fantastic community feel and whilst our current students have continued forging strong bonds, even strengthening them during lockdown, we know that face-to-face interaction and networking is beneficial.
"Face-to-face provision ensures that our MBAs benefit from Manchester's unique experiential learning approach, which includes interactions with live consultancy projects' clients, and networking with businesses and supervisors.
Trinity EMBA Students Leave the Classroom to Help Frontline Workers
The future of the MBA
Xavier believes the MBA is a resilient qualification because of its generality. Rather than achieving a specific area of expertise, Xavier calls the MBA a 'post-experience' qualification that provides individuals with a general understanding of how organizations work. Essentially an MBA provides versatile knowledge and skills that can be used across industries.
Xavier said: "Given the uncertain business environment in which we live, the generality the MBA provides strengthens its relevance. We are often told that in a dynamic and uncertain world such as the one we currently live in; we may end up having to change careers a number of times over our lifetimes.
"The versatile skills the MBA equips students with combined with the confidence it builds are essential not only to navigate through but to thrive in an uncertain world. It is no coincidence that in periods of turmoil we generally see more people wishing to do MBAs."
Forté Foundation: Inside the Women's Leadership Conference
The new look AMBS MBA
As AMBS offers a flexible program structure (12, 15, or 18 months), and this move has been made to maximize face-to-face delivery potential, few amendments were made, meaning little impact is made on participants education experience even though the start date was postponed.
Xavier said: "All modules, client-based consultancy projects, internship and elective/study tour travelling opportunities remain in the program. Just with a slightly adjusted sequence, given that the program starts in December.
"Our careers team however, will start working remotely with students as early as September, in order to get to know them and prepare to hit the ground running with their career plans when they arrive in December."
The only differences will be:
1)    AMBS will compress the sequence of some courses usually delivered between October and May to the January-June period
2)    The shorter 12-month option will be unavailable this year
Students in the class of 2022 will complete the program in either 15 months (finishing end of Mar 2022) or 18 months (finishing end of June 2022). However, Xavier says this has had little impact on incoming students, as participants tend to choose longer study periods to utilize opportunities associated with the program like internships, academic exchanges, electives abroad, etc.
Although some may be wondering whether an MBA would be worthwhile in the current climate, Xavier says an MBA offers important tools during times of uncertainty.
He said: "An MBA will equip you with the necessary knowledge and skills to adapt to the significant changes the business environment will face in a post Covid-19 world.
"The MBA will equip graduates with communication and collaboration skills, creativity, critical thinking and confidence to thrive in uncertainty. It's a good opportunity to ride out the storm!"