Articles with tag 'admissions'
'
TOP
MBA
admissions by date
To find out more about the recruitment and admissions process at Concordia University, John Molson School of Business, we spoke to the school's recruitment and marketing manager for graduate programs, Keum-Yeo (Anna) Brochet.
Learn about the SAT's new adversity score and whether it can really help to create a more level playing field in the often-criticized college admissions process.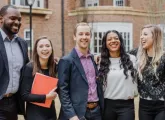 Not sure where you should start your graduate school search? To help you organize your research and plan your next steps, we asked Deirdre M. Kane, the director of admissions at the University of Georgia's Terry College of Business, for advice.